Functional Traveler
From Globetrotting to Urban Transit, Today's Textiles are Going Places.
If it feels like contemporary society is in constant motion, it's because it's true. Whether for business or adventure, travelers continue to up their game; execs nowadays hit multiple cities in a day for meetings, crisscross continents within a week for trade events, and rack up sky-high frequent flyer miles annually. Millennials make savvy use of credit card points to see the world; Peru, Mexico City and Montreal are just a few quick clicks away with free airline tickets and Airbnb housing at the ready. However, no matter the destination, or the intent, what's critical to on-the-go individuals is elevating the travel experience. And that's where textiles increasingly come into play.
Multi-tasking clothing that does more than just look nice is a key element of today's travel wardrobe. "The big trend driving development, in all apparel, is comfort and convenience," said Judith Russell, global marketing strategist, Nilit, in her presentation at Performance Days titled, Satisfying the Consumer Who Has Everything (But Wants More). "Comfort is driving lifestyle in general and convenience is driving consumers' 'I want it all, and want it now,' intensity."
Comfort 24/7 is achieved with today's textile tech that levels up performance properties like moisture management, temperature regulation and lightweight weather protection without skimping on the feel-good attributes of softness and stretch. Advances in odor-capture technologies, along with new technical wools, reduce the need for washing and save time, while new CBD infused fabrications offer wearable wellness benefits. Other travel-friendly functionality includes wrinkle-resist, pack-ability, 4-way stretch and soft-to-the skin feel.  
"Today's membrane tech offers modern solutions for increased air permeability, comfort and waterproof protection. These are products you can wear comfortably. You're not going to overheat in city street conditions or backcountry adventures," says Schoeller Textil NA president, Stephen Kerns, who cites Swiss firm Aerobrane's product as a prime example.
Performance knits are increasingly noted as travel-friendly fabric. "Cordura knits have evolved from tactical to active and continue to evolve as ideal for travel," comments Cindy McNaull, Cordura business development director. New "Softened Strength" knits, in Cordura's 4EVER collection, recently were named an ISPO Textrend award winning fabric. (For more information on these and other new developments in functional fabric turn to our OR Show preview story.)
According to recent research from the World Travel and Tourism Council (WTTC) the travel and tourism sector contributed a record $8.8 trillion and 319 million jobs to the world economy in 2018 and is the second-fastest growing sector in the world, ahead of healthcare, information technology and financial services.
‍All About "Active Living"
Trend forecaster Louisa Smith uses the term "active living" to describe the rise of textiles designed for on-the-go comfort and convenience. "It's dressing casually in relaxed mode but with a smarter look."
Western Rise puts its own spin on this trend by minimizing the product, maximizing the fabric and letting the textile broaden the "wear spectrum." Says Western Rise co-founder Will Watters: "Our wear spectrum approach will check all the boxes for travel but not give way to things like 12 travel pockets. Rather it will give way to a pant that you can wear when lounging in the hotel checking emails or wear to a business dinner in New York City."
In other words, the Western Rise Evolution pant. Three years in development, the pant was designed from the yarn up to feel like cotton but perform like a high-trade nylon. The result is a durable nylon Supplex with a soft hand, spandex for stretch, DWR performance and sharp style.
Creating a better version of what exists drives development at Western Rise, explains Watters. "Jeans, for example, don't hit the wide spectrum of wear – when it comes to travel for instance, jeans are heavy to pack, and lack performance of lightweight technical nylon."
Western Rise will launch a new pant in February; a nylon, double weave with 4-way stretch, the fabric has a high durability canvas exterior and soft dobby next to skin. It is designed to be packable, lightweight and excel in comfort, says Watters.
ON THE ROAD AGAIN
MOLLY KREMIDAS • Senior Sales Director, brrr    
Frequent Flyer: 2M miles on Delta, logged 132 flights in 2019
‍Airport of Choice: Greensboro, NC.
‍The benefits of a small airport: "If I'm running late, they see me coming and print out my boarding pass!"
‍Travel Advice: When plans go awry: "There's always another plane."
‍Best Travel Story: Having to take a small sightseeing plane piloted by a civilian from tiny Mackinac Island, Michigan to Detroit airport to make a direct flight for a last minute business trip to Shanghai with brrr CEO.

CINDY MCNAULL • Cordura Brand Business Development Director
Frequent Flyer: 1M miles on American, 1M miles on Delta.
‍Local Airport: Charlotte, NC. "It has a hometown vibe and is a hub for direct international flights."
‍Packing Routine: Keeps duplicate sets of grab and go items always at the ready. Unpacks from one trip, and immediately re-packs for the next.
‍Packing Advice: Take fewer shoes!
‍Travel Advice: Hydrate, hydrate, hydrate, and bring vitamin tablets that dissolve in water to drink on the plane.
STEPHEN KERNS • President, Schoeller Textil USA
Frequent Flyer: United, nearly 1K, Premium Platinum
‍Local Airport: Logan Airport, Boston, MA
‍Travel Wardrobe: Multi-versatile clothing that stands up to all weather conditions while looking professional yet casually acceptable.  
‍Apparel Faves: Schoeller Dryskin trousers, merino wool layers, softshell outerwear.
‍Done in a Day Trip: From Boston to Portland, OR to San Jose, CA to San Francisco and then Denver, CO.
TIM SKEDZUHN • President Global Brandforce, HeiQ
Frequent Flyer: Star Alliance member airlines; 175,000 miles logged in 2019.
‍Flight Routine: Movie, drink red wine, eat a meal, and go to sleep.
‍Plane Preference: United 787 for its atmosphere; United 787 Dreamliner for best cabin pressure.
‍Travel Interest: New Newark to Singapore flight direct in 19.5 hours!
PAUL MIDDLETON • Technical Director Brandforce, HeiQ
Frequent Flyer: 110 flights as of November 2019. Favors Emirates airlines.
‍Local Airport: Birmingham, England. "If going east, Birmingham; Heathrow is best if going west."  
‍Common Trips: Taiwan (five times a year), Sydney, Bangladesh, Sri Lanka. Has been to every country in Europe.
‍Travel Routine: Window seat, right side of the plane, so right arm free to work on the computer.
CHRIS PARKES • West Coast Sales, Concept III Textiles
Frequent Flyer: 2.4M miles on United, logged 125,000 in 2019.
‍Common Flights: Asia three times a year; Europe twice a year; flies domestically throughout the year.
‍Aisle or Window: Aisle.
‍Travel Wardrobe: All Birds shoes, no socks; jeans or khakis, wool polo. "I can wear a wool polo multiple times on a trip. It's comfortable on the plane, in China on a rainy day, or traveling by car."
‍Travel Approach: In and out as fast as possible.
‍Best Part of Travel: "When you take off and land safe."
UTILITY RE-TOOLED
As more people opt for scooters and city bikes as a preferred mode of urban transit, and a growing segment of the motorcycle crowd veers off-road for backcountry adventure, workwear is getting a new tool kit. While high abrasion and protective qualities remain fundamental, modern workwear is being re-framed to fit the needs of a broader customer base.
The latest versions of traditional hard-working textiles are lighter in weight with enhanced comfort features and a more active design orientation. "Today's workwear is 25 to 30 percent lighter than conventional workwear and has more stretch," confirms David Parkes, founder, Concept III Textiles. Brand partners Carhartt, Duluth, Dickies and Milwaukee Tool are helping lead the charge in workwear's current crossover appeal.
Industry analysts forecast that the global Dual-sport motorcycle market will grow at a RATE of 9.19 percent during the period 2018-2022.
Ventile Fabrics, made from high-grade long staple cotton, is also experiencing an update. The fabric has long been a workwear essential based on the extremely dense weave construction that allows for inherent water/windproof-ness and breathability without the need for a coating or laminate. Recent Ventile introductions include a trim 145 g/s2 fabric (classic Ventile fabric weight is 240 g/s2); a 100 percent recycled cotton quality; and a waterproof organic cotton fabric.
"We're finding relevance in today's workwear trend of lighter, functional fabrics, that also ride the green wave of sustainability," says Daniel Odermatt, marketing/sales, Stotz, the Swiss company that owns and produces Ventile fabrics. (UK manufacturing and finishing facilities both closed years ago.) A first time exhibitor to Performance Days Munich, Ventile Fabrics featured in the trade fair's Performance Forum as a Top 25 pick.
Originally developed during wartime England, Ventile was designed to save the lives of pilots flying escorts on the Atlantic and Russian convoys. The ships they flew from weren't equipped for landings, so pilots had to bale out or ditch in the sea. The high performance 100 percent cotton fabric proved to be cool and comfortable in the cockpit and warm and impenetrable in the water. According to the company, Ventile fabrics "kept out the arctic winds and the icy ocean, extending survival times 10 fold."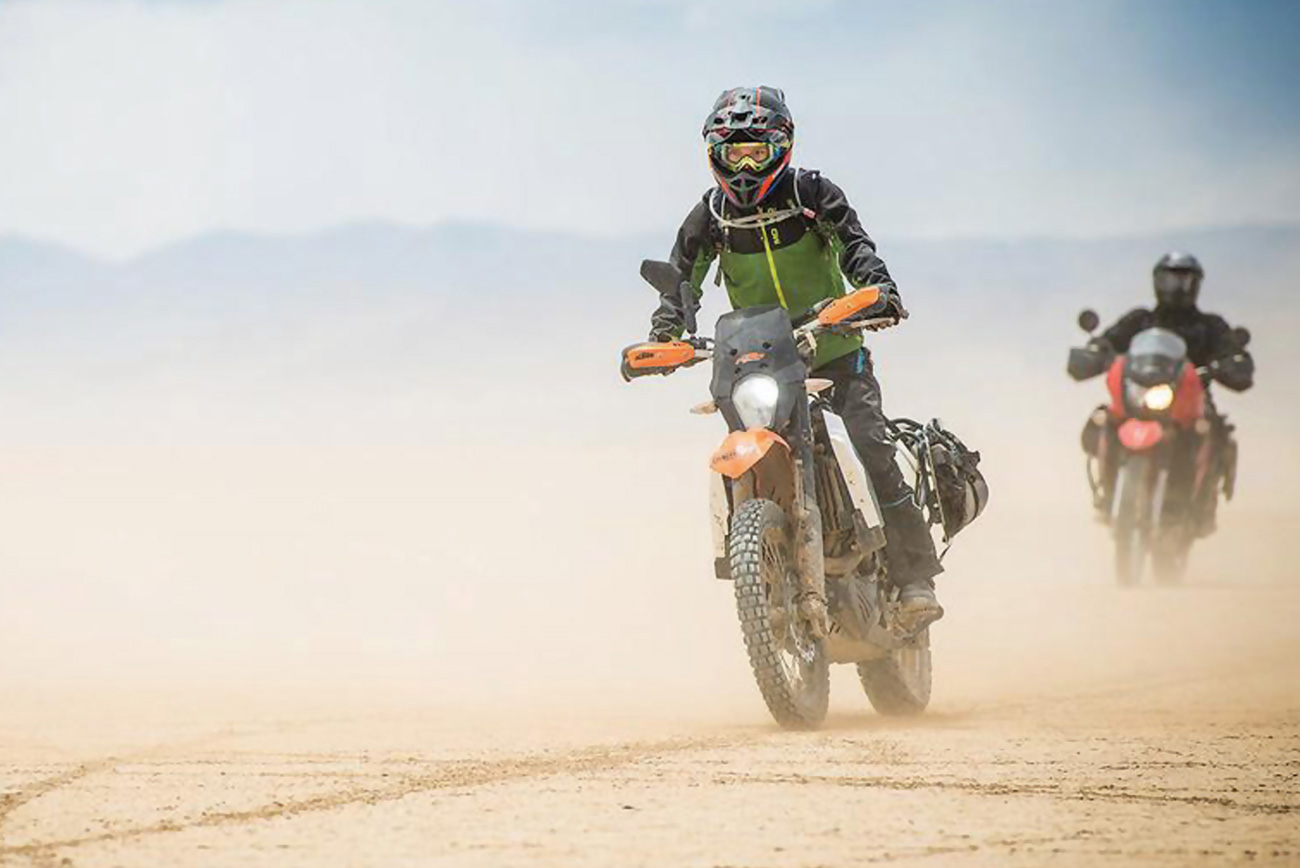 Comfort Protection  
Execs who attended the 2019 A+A International workwear trade show in Dusseldorf last November say that a main takeaway was product that is getting more casual and better looking all the time. IBQ Technical Fabrics, a Barcelona-based firm specializing in textile products for the Safety & Durability workwear category expanded its stable of performance textiles with a new Black Dyneema, Black Kevlar and Recycled offering.
The company additionally introduced reflective lights that can be integrated easily into product. The new line came out of the firm's protective textile business in the motorcycle market. The company reports that there's a lot happening in personal safety and sees growth in outdoor/action sports as consumers increasingly value safety features.
Motorcycle is also the springboard for innovation at Mosko Moto, a brand focused on the Dual Sport Adventure market that is finding traction among riders with its gear and a new high-performance apparel collection. The Basilisk Jacket and Pant, for example, feature eVent's toughest waterproof membrane solution, DVexpedition, while the packable Deluge jacket and Overpant uses eVent DValpine technology. Super Fabric textiles are used in key abrasion panels and premium YKK zippers also feature.
Scooter services are operational in over 100 cities worldwide; Paris has an estimated 20,000 e-scooters.
"Traditional jacket thinking was to make it better, it had to be bigger," explains Ashley Myhre, brand creative director for Mosko Moto, White Salmon, WA. "Jackets were built based on an old aesthetic with hanging liner and integrated body armor that could weigh up to 20 pounds. We take a different approach, which is a premium shell that supports the body armor and provides lightweight durability, freedom of movement and plenty of functionality."
Myhre says the Dual Sport Adventure market is on a strong growth curve and Mosko Moto products elevate the riding experience. "Our apparel is purpose built to withstand soaking rain and strong wind over the long haul while sitting on the bike. On a 12-15 day trip that one jacket could be worn all the time."
This Spring Mosko Moto will add to its apparel collection. "Product will fit today's performance needs but also feature what backcountry riders want in terms of packable, versatile, comfortable functional clothing," says Myhre. "This market is ripe for change and we believe in a blend of moto and nature going forward."